TimeOn is no longer available, the information here is for existing users only.
TimeOn is a one-to-one booking system and timetabling solution combined with automated emails, calendar updates and easy invoicing of hours.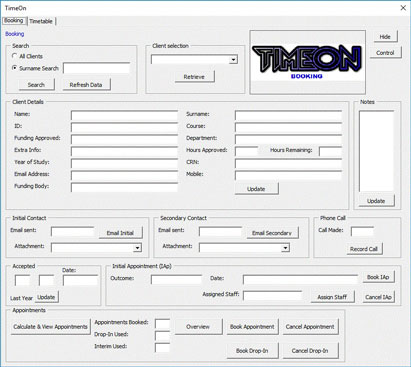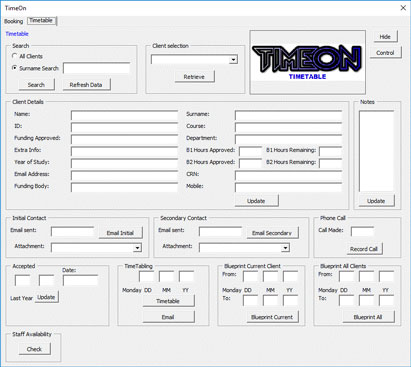 This software can be used by all businesses that require a one-to-one booking system or timetabling solution. It could also be used by schools, colleges or universities. There is no installation process as TimeOn, developed in Visual Basic for Applications (VBA), employs the user's existing Microsoft Office Software. TimeOn is easily customised to suit individual needs. The system sends automated emails to clients and staff, with attachements if desired, makes and confirms bookings and/or timetable slots and keeps track of staff hours and availability. Staff Outlook calendars are also updated as part of the process, ensuring that they are kept up to date with any new bookings or cancellations. The hours for each staff member can be analysed by simple-to-use reports monitoring output, cancellations and "DNA's" (Did Not Attend - booked appointments where the client did not turn up). Invoices are generated for the hours booked and these can be personalised to suit your business needs.
The timetabling element could be used to assign jobs within your organisation to staff, or to manage your clients workload requirements with your staffing resources.
TimeOn could be utilised by any size of business, be it a sole-trader managing their appointments, or a university department managing their students.
There is no limit to the number of clients or staff that can be added to TimeOn.
You must have your own licensed copies of both Microsoft Outlook version 2007 or later and Microsoft Excel version 2007 or later for TimeOn to function, they are not included.
Please see our FAQ